ZEISS low vision devices for the visually impaired
The comfortable solution with high imaging performance.
Low vision devices can be adapted to the individual needs of each user. The product spectrum includes different optical systems for hand-held use and others intended for integration into or attachment to spectacles. The major benefit of many ZEISS special visual devices: they can be used for both distance and near vision.


These feature a similar design to that of standard bifocals, but have a higher addition than normal in the near portion. The distance portion of the lens permits orientation in the surrounding area, while the magnifying portion allows reading and work at close range.


Telescopic spectacles / teleloupe spectacles
Telescopic spectacles are used to recognize objects outside the range of near vision. With the attachment of a loupe - in the form of a clip-on lens – the telescopic spectacles become "teleloupe" spectacles that are used for activities performed at close range. The benefit of teleloupe glasses over magnifying spectacles is the considerably larger working distance in the near range.
more


Monocular hand-held telescopes
Hand-held telescopes are used for the uncomplicated recognition of details in the distance range and are therefore important aids to outdoor mobility. Models featuring continuous focusing from distance to near offer very flexible application possibilities, e.g. for reading bus or train schedules and street signs or for viewing shop window displays.
more

Successful fitting in 4 simple steps
As a specialist for good vision, it is important to be familiar with the features of each product in order to provide the most suitable visual aid for your customer. Just 4 steps are required to determine whether a patient´s visual performance can be improved with a low vision device, and if so, which one. Only a few steps are required to determine whether the patient can be helped with a low vision device and, if so, with which one.

// 1 + 2
Analyze customer's needs / Test visual acuity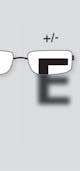 Obtain information on diagnosis, visual problems, visual tasks, environment, etc.
Determine current visual performance with and without best lens correction

// 3
Determine magnification need
Determine magnification required, for example, to read standard font sizes

// 4
Select the low vision device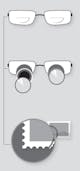 Demonstrate different optical systems and determine visual outcome

ZEISS is one of the world's leading manufacturers of spectacle lenses, and is committed to delivering maximum precision and comfort. ZEISS designs and produces lenses, instruments and measurement systems, as well as retail concepts and technology services that continue to raise the bar in vision care.